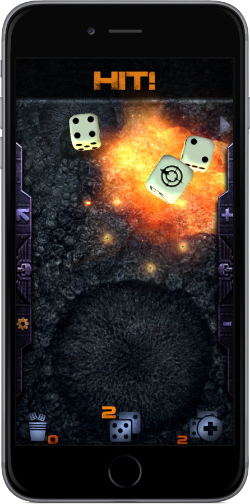 Warhammer 40,000: Assault Dice is the first officially licensed Games Workshop® dice roller for use with Warhammer 40,000®. Custom made to simulate the unique mechanics of the game, ASSAULT DICE captures the hands-on feel of using physical dice. Rapidly add, subtract, or "set aside" virtual handfuls of dice instantly without slowing down your game.
ASSAULT DICE also features a dedicated SCATTER DIE roller to aid you in pounding your enemy to dust with artillery or psychic powers. The ASSAULT DICE Scatter Die includes an on-screen alignment ruler, allowing super-accurate precision when measuring distance with a tape measure or straight edge.
Warhammer 40,000: Assault Dice is a must have for any serious Warhammer 40,000 player or ANY gamer that needs an easy to use, powerful, intuitive dice roller!
See more at: AssaultDice.com